We know from experience - anything can happen at a wedding! From a stain on your dress to forgotten deodorant, we've learned to expect the unexpected. While we hope your big day goes off without a hitch, it's best to be prepared! A wedding day emergency kit can turn any spill, snag, or headache into an easily-fixed mishap. Investing in a bridal emergency kit, if nothing else, will provide you with peace of mind.
*This post may contain affiliate links. While we can receive commission through affiliate links, opinions are entirely our own.*
What is a Wedding Emergency Kit?
Maybe you haven't heard of wedding day emergency kits, let alone know why you should have one. A wedding emergency kit is a resource that includes supplies you may need on your wedding day. Oftentimes, these products are ones that you completely forget, or don't even know you'll need. Toiletries, medicine, and beauty supplies typically make up much of the kits!
So, why do you need a wedding emergency kit? Honestly, it's likely that at least a few small problems will arise throughout your wedding day. Perhaps a bridesmaid's strapless dress keeps slipping; that can be fixed with boob glue! Maybe you forgot to eat before walking down the aisle; simply grab a granola bar from the bridal emergency kit. If the groom forgot his shaving kit; there'll be a razor to rescue him! There are many potential small hiccups that seem impossible to prepare for. Having a wedding emergency kit lessens that stress.
Best Pre-Built Wedding Emergency Kits
While you're busy planning your wedding, let us do the hard work for you. Building a bridal emergency kit can be time-consuming. Plus, you'll likely spend a lot more money than needed if you choose to DIY! After all, you'll only need a few of each product. Save time and money by opting for a pre-built wedding day emergency kit. Here are some of our favorites.
1. Wedding Day Emergency Kit
This quirky 'Oh Sh*t Kit' is the perfect size for on-the-go brides. With everything from Tylenol to tampons, you and your girls will be ready to tackle whatever the day brings. It also doubles as a great bachelorette party survival kit, too!
2. Custom Bridal Emergency Kit
Made specifically with the bride in mind, this custom bridal emergency kit will keep you stress-free! No need to worry about a spill on your dress or a blister from your (gorgeous) heels. This bridal emergency kit will keep you prepared for anything!
3. Personalized Groom's Emergency Kit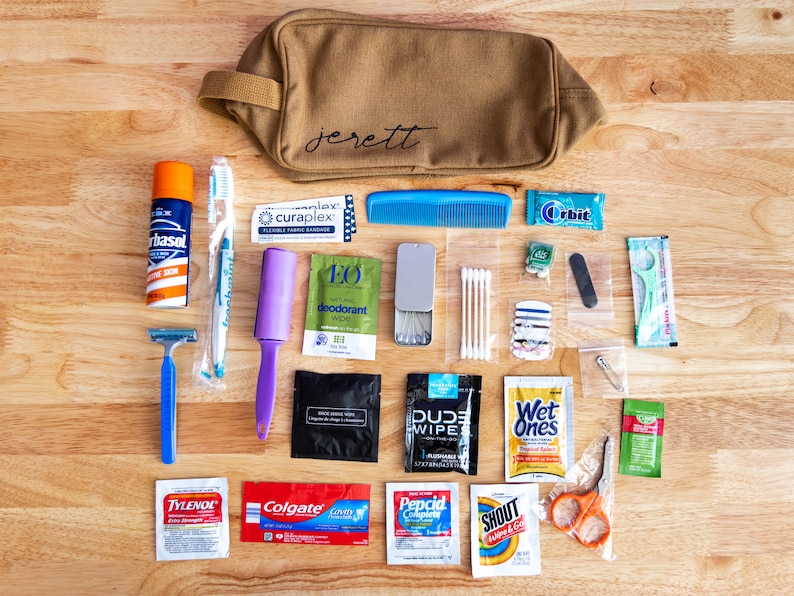 BridalBendBoutique
This groom emergency kit is a cute way to make sure your future hubby is prepared for the wedding! He gets the supplies he may have forgotten, with a personalized toiletry bag that he can use for future occasions. Plus, it makes for a fun present on the morning of your big day.
Wedding Day Checklist
Maybe you didn't find exactly what you were hoping for in the above wedding survival kits. Or, perhaps you love to DIY!  Either way, we want to let you know what goes in a wedding emergency kit. Here's a list of 12 essentials you shouldn't be caught without on the big day.
1. Sewing Kit
A sewing kit could turn out to be your strongest ally in the fight against wedding day elements. Make sure it includes sewing needles, safety pins, scissors, hem tape, and thread. (Tip: bring thread that matches your wedding colors!) The kit will come in handy if you come across snags and tear, or find any loose threads. Meanwhile, safety pins come in handy for keeping everything in place.
Most convenience stores, department stores, and grocery stores sell travel-sized sewing kits if you don't want to create your own.
2. Emergency Pre-Ceremony Snack
With all the wedding day excitement and jitters, brides sometimes skimp on meals. Although you likely won't want to fill up on food before your ceremony, it's a good idea to have a snack ready. After all, you don't want to worry about fainting or feeling sick during the ceremony. Having a granola bar on hand will make for the perfect light snack.
3. Lipstick & Other Makeup
Your wedding survival kit isn't complete without emergency makeup! Think lipstick, mascara, eyeliner, and foundation. All of these have the ability to smudge or run, and you'll want to be photo-ready at all times. It's also not a bad idea to drink out of a straw to avoid wearing off lipstick while trying to hydrate.
4. Boob Glue
When you're getting ready with your bridesmaids, several dress-related issues are likely to occur. Boob Glue helps immensely! It can help keep your cleavage in place, keep strapless bras from slipping, and more. Boob Glue is the key to keeping dress problems at bay, so add it to your wedding day kit.
5. Clear Nail Polish & Super Glue
An old trick for stopping runs in nylons and tights is to apply clear nail polish. Paint a quick coat on immediately after you find the tear. (This will prevent the tights from running further.) Super glue comes in handy for fixing broken shoes, jewelry, or other defective accessories. Both are necessary additions to your wedding emergency kit.
6. Bobby Pins, Hair Ties, Comb, & Hairspray
Whether you're getting your hair professionally done, or doing it yourself, you'll need some hair supplies. Touch-ups are inevitable. If it's windy, humid, or you accidentally get your hair caught on your ring - you'll be glad to have some bobby pins to fix it.
7. Stain Removers
Throughout the day, you'll be eating, drinking, and running around in your dress. At some point, it's likely to fall victim to a spill. Be prepared by having a quick and easy way to make it less noticeable. Tide-To-Go or SHOUT Wipe & Go are some great options to add to your wedding day emergency kit. 
8. Pain Medications & Band-Aids
Headaches and other body pains strike when you least expect it. Unfortunately, they won't hold off just because it's your wedding day. It's a good idea to have pain relievers on hand in case someone feels under the weather. Band-Aids are good to have, too, in case of blisters or a small scrape.
Mini Wedding Emergency Kit with Band-Aids & Medication
9. Tissues
In our everyday lives, we all know how helpful a travel pack of tissues can be. Make sure you stock up on your supply so it can be at your immediate disposal. You, your spouse, and your bridal party will probably be crying lots of happy tears!
10. Body Spray, Perfume, & Deodorant
Assuming you want to smell as great as you look, add some deodorant and perfume to your wedding day kit. You'll be running around all day, so a reapplication will be needed. Plus, it's likely that a bridesmaid or two will forget to pack their own.
11. Toothbrush, Floss, & Mints
Keep your pearly whites fresh with floss, and the rest of your mouth clean with an on-the-go toothbrush. These items will keep you picture-perfect and kissable throughout the night. A pack of mints or gum would also be helpful for a quick fix!
12. Tampons & Pads
Periods happen, sometimes unexpectedly. You don't want to be caught unprepared on your wedding day. Even if you don't need them, it's likely that one of your bridesmaids or guests will.
Get your Wedding Survival Kit Ready!
The months of planning your wedding can be stressful enough without having to worry the things that *could* go wrong. That's why wedding day emergency kits are such a good idea!  If something small does come up on your big day, don't sweat it. Your wedding day is too special to worry about things that are beyond your control. But, it's never a bad idea to be prepared!
Our Complete Wedding Emergency Checklist:
Are there any supplies we missed that you wouldn't be caught without on your wedding day? Share them with us in the comments below!
Leave a comment
Leave a Comment