Wedding planning can be really tough, but renting a tux/suit shouldn't be! That's where we step in and help you find the perfect formalwear for you and your groomsmen on your wedding day.
---
Renting 101 At The Wedding Shoppe

Join us in store and our specialized consultants to choose from our large, high quality and affordable selection.

We'll get you measured and ready to go. If you live out of town, no worries! Give us a call to submit your measurements!
Save time by having your rental shipped right to you the week of the wedding! If needed, we will make any last minute alterations in-store.

Time to own your big day - in style! After the wedding, anyone can drop your rental off no later than 5:00pm the Sunday after the event.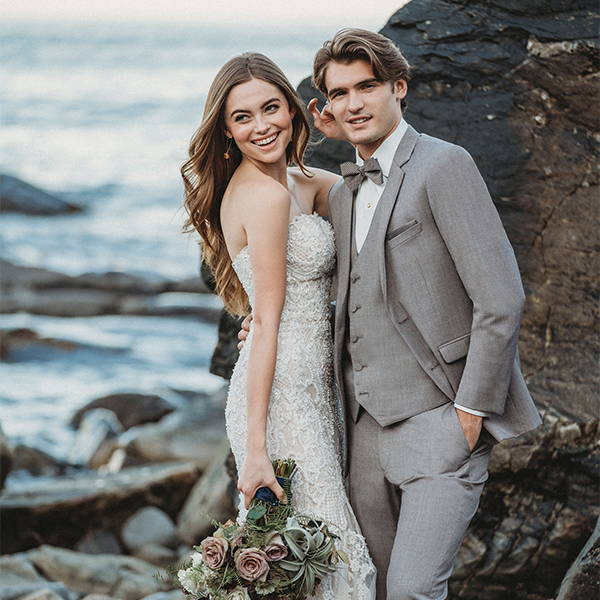 Coordinate Your Whole Bridal Party

We strive to make your wedding planning process as easy as possible by making Kennedy Blue ties compliment our Kennedy Blue dresses. Shop our ties, bow ties, and pocket squares and give your groomsmen a wedding gift that can be worn after your wedding day!
Q. What is the total cost?
A. Prices are determined by the styles you choose and how you accessorize! We have over 100 suit and tuxedo styles along with even more accessories so the options are almost endless. Overall, our prices range from $20 for a simple tie rental to $205 for a full rental. Make sure to sign up for emails and visit us in store for exclusive coupons and promotions to save even more!
Q. When does it ship to me and my guys?
A. We ship it to you as early as Monday before your event. That's right! On your doorstep. No more in store Thursday pickup…yuck.
Q. When do I return? Can someone else return it for me?
A. We require return no later than 5 pm on the Sunday after your event. All returns are taken in store and traded in for a receipt of proof of return. Anyone can return for you as long as they are aware of the terms and conditions of the rental.
Q. What if we need alterations or a new size?
A. By renting with the Wedding Shoppe, you receive the complimentary perk of in-store service! When you need new sizes or alterations, just contact the store at 651-294-4968 and a specialized consultant will assist you. All size reorders and minor alterations are on the house!
Q. What's all included?
A. Our package prices reflect a package that includes a coat, pant, shirt, vest, neckwear, studs/cufflinks, and shipping to your door. We also offer amazing accessories to complete your look!