Who says that the ladies should get to have all of the fun?! Times are changing and modern thinking party-planners are veering away from the classic girls only bridal showers and toward a more male-friendly approach! They call it the "Honeymoon Phase" for a reason: you just can't bear to be apart. And after all, you're receiving gifts that you'll both use down the road, so why not have your partner there, as well?
*This post may contain affiliate links. While we can receive commission through affiliate links, opinions are entirely our own.*
What Is A Couple's Shower?
Bridal showers have historically been female family and friends showering the bride(s) with gifts/support. Couple's showers are a different option that includes both partners being present - where any gender family/friends are invited. 
A co-ed shower is more like a cocktail party than a bridal shower. Sure, there can be games and of course the couple will be showered with gifts, but the scene is generally less frilly and more guy-friendly.
Whether you're a bride-to-be with hopes of having a Jack and Jill shower, or a bridesmaid planning their first guy/girl shindig, we've compiled a list to make sure that you have all of your couple's shower bases covered!
Couple's Shower Ideas
A couple's shower opens the door to a whole variety of party themes, venues, and activities. Instead of just being female focused with the same hat made out of bows that you make at every traditional shower, you can mix it up with any number of ideas!
The key to a great wedding shower is making sure it will be fun for a wide variety of people. Groom's grandma will be there and so will the bride's rowdy best friend from college. There might even be kids there if you don't stipulate an adults-only party. To help you out, we compiled a bunch of our favorite ideas for wedding showers!
Couple's Shower Themes
There are so many themes to choose from for a wedding shower. Since this isn't a traditional bridal shower, you don't have to choose a feminine theme. The bride and groom are both meant to be the center of attention at a couple's shower so try to choose a theme that honors the interests they have in common and the activities they both love. Some of our favorite wedding shower themes include:
1. "Bubbles and Brews"
Celebrate the bride and groom with a toast! Beer and champagne are the perfect celebratory drinks. You could even order custom drink koozies, champagne glasses, or pint glasses.
Bubbles and Brews Custom Koozies
2. "I do BBQ"
An old fashioned backyard barbecue is a great way to get everyone together. Everyone will spend their day eating BBQ, drinking cold drinks, and playing their favorite lawn games! To reduce planning stress, you could even make this a potluck style event.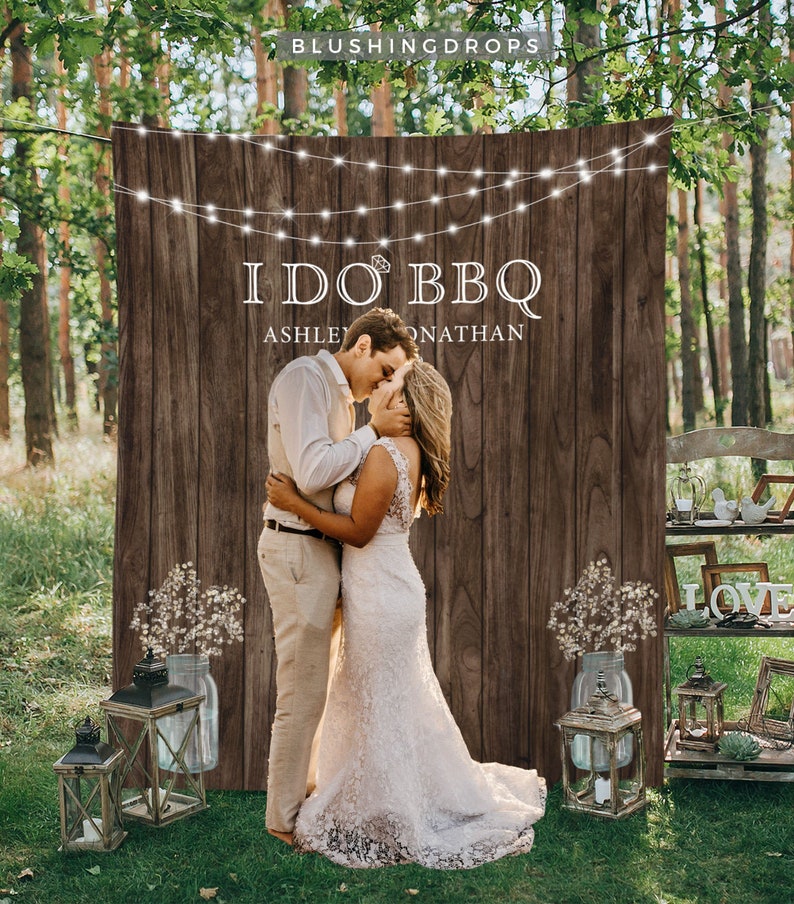 3. "Love You a Brunch"
Everyone loves brunch! Host a mid-morning brunch complete with waffles, frittatas, mimosas, and a Bloody Mary bar. As an added bonus: a brunch wedding shower could easily be held indoors or outdoors and at any time of the year.
4. "Taco 'bout Love"
Host a taco fiesta for your favorite bride and groom! Obviously this involved a full build-your-own taco bar complete with tortillas, different proteins, fresh veggies, toppings, and salsas.
Couple's Shower Games
Things can get rowdy when boys are involved, so take advantage and use this opportunity to get crazy with games! 
1. Yard Games
Classic yard games and drinking games are a simple way to keep guests entertained. Bags (AKA cornhole, sack toss, or bean bag toss) is a simple and fun game that can be played by people of all ages, even kids.
Giant Connect 4 Yard Game for Couple's Shower
Horseshoes, bocce ball, croquet, or giant jenga are some more fun yard game ideas for a wedding shower. You could also host classic drinking games like beer pong, flip cup, or anything you don't think will get too out of control.
Giant Jenga for Couple's Wedding Shower
2. Printable Wedding Shower Games
The simplest way to entertain a crowd is pre-made printable games. All the work of coming up with ideas and questions and answers can be avoided by purchasing a pre-made pack of wedding shower games.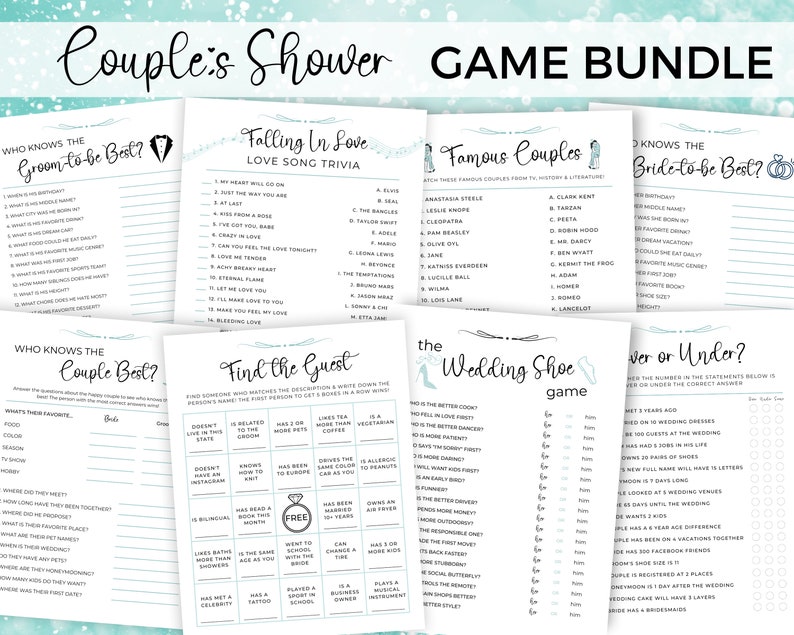 Printable Wedding Shower Games Bundle
3. Karaoke
Involve the guests by creating a love-themed playlist for them to sing Karaoke-style at the event! Crank up the Beyoncé and J-Zay for a "Crazy in Love" sing-a-long, or channel your inner nineties R & B and have the guys in the room belt out "I'll Make Love to You" Boys II Men style.
4. The Newlywed Game
Create a list of questions for the bride and groom about each other and their relationship. Ask one of them a question and have them secretly write their answers large enough for everyone to be able to read once it's revealed. Then, ask the question to their future spouse, have them reveal their answers and see if it's the same!
5. Wedding Themed Charades
Get your guests wedding-ready by having them act out celebration scenarios such as "honeymooning," "losing the ring," or "the first look." They'll get a laugh, and the bride and groom will get (questionable) training on how to go about their new lives as newlyweds!
Couple's Shower Invitations
Just like the theme and the games, the invitations to the wedding shower don't need to be especially feminine or girly. Just remember to make them cute enough to hang on everyone's fridge before the party and be sure to include all the important party details. Here's a few of our favorite customizable invitations!
1. Retro "Newlywed Game" Style Invitations - We love this font and style because it reminds us of the Newlywed Game that first aired in the 1960s!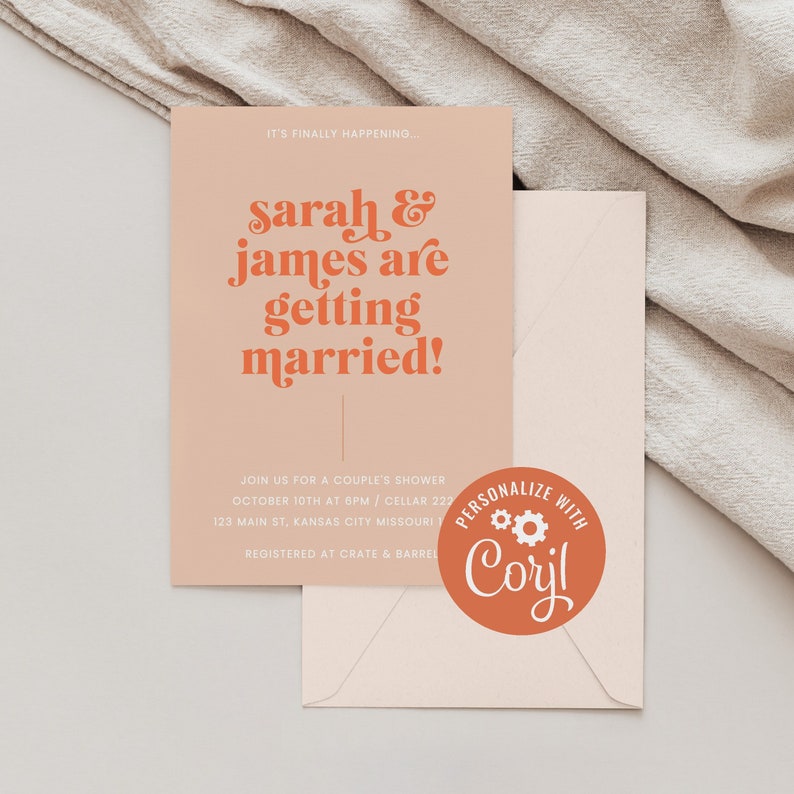 2. "Bubbles & Brews Wedding Shower Invitations - If you choose to throw a "Bubbles & Brews" themed wedding shower, these invitations are perfect!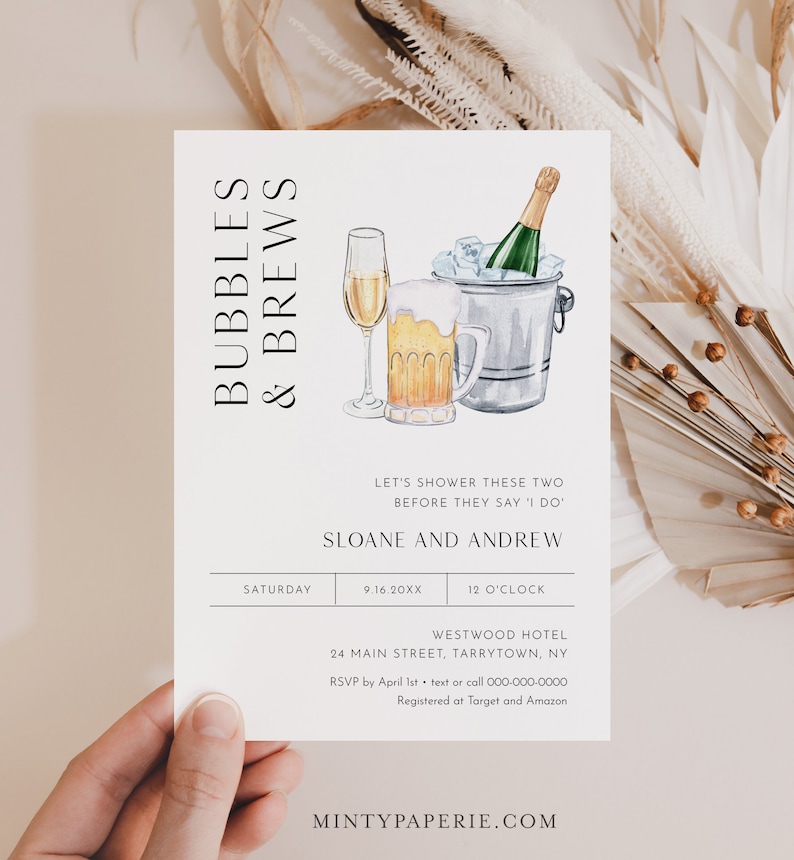 3. Digital Couples Shower Invitations - Skip the stamps, envelopes, and trip to the post office. Digital shower invitations work just as well as paper and your guests can save them to their phones!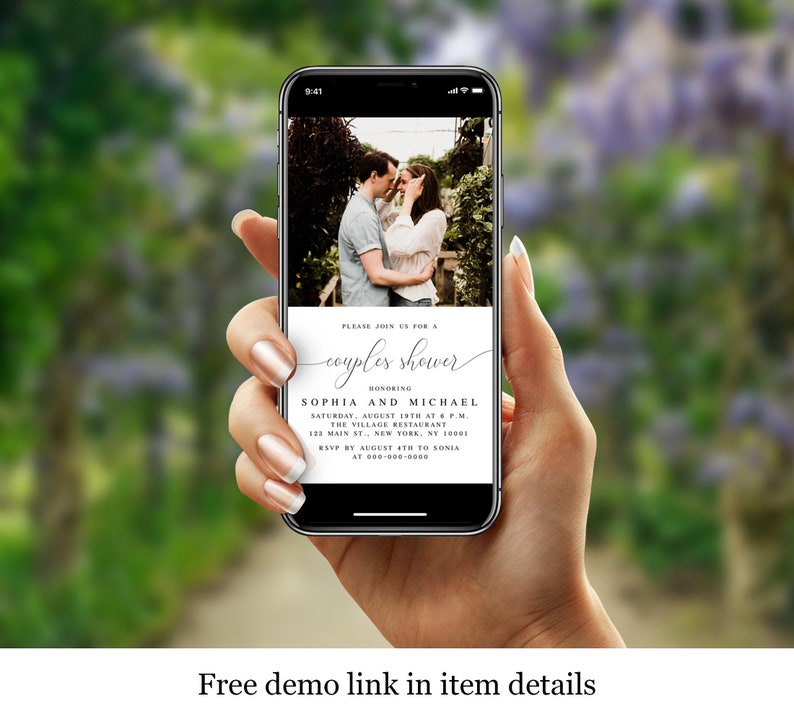 4. Throwback Photo Wedding Shower Invitations - Find cute and funny photos of the bride and the groom when they were kids for this adorable wedding shower invitation! As an added bonus, you get a trip down memory lane while you look through childhood photos.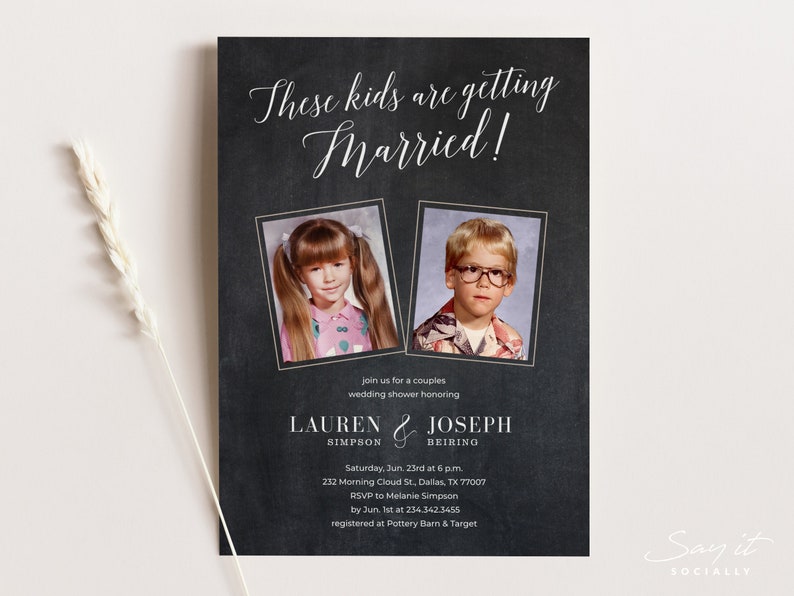 Get Started Planning Your Couple's Shower
Start early planning your couple's shower! You'll need to compile a guest list, choose a theme, buy decorations, buy invitations, prepare a menu, and more. Make sure you plan a date far enough in advance that people will be able to fit it in their schedule. You may also have to special order decorations or invitations for your theme so plan to order these early in case shipping is slow. 
Choose a concept that will be simple enough that few things could go wrong and definitely don't bite off more than you can chew! All of the ideas we listed in this blog are easy and affordable. If you find yourself overwhelmed while party planning, be sure to ask for help from the bridal party or other close family and friends of the couple. The people who love the bride and groom would most likely be willing to help make sure their shower is perfect!
You many also like...